Robert's Photography
& Video Services

Presents
Light Up Lemon Bay Fireworks Spectacular
VIP Party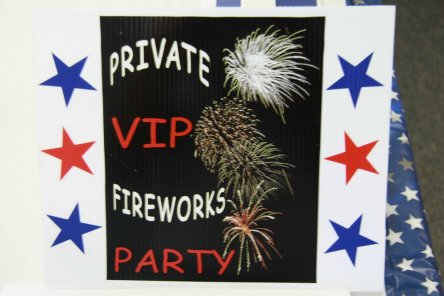 The Private VIP Party was held at Lemon Bay Park in Englewood and was hosted by the Englewood Lemon Bay Sunrise Rotary.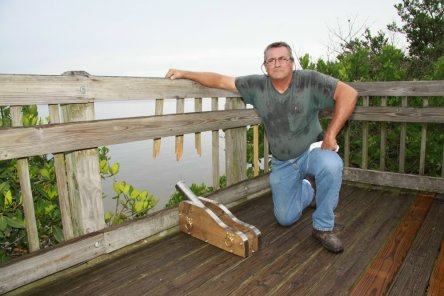 I stopped by to get the final details about the party that I was going to photograph early that afternoon, and was told they were going to test fire the cannon that would mark the beginning of the fireworks display that evening. This is cannoneer Mark Perinovic with his cannon on the
dock at Lemon Bay Park.

And look at the damage that little cannon did to the dock !!!

Actually... I spoke to Rick Storesberg who runs the Lemon Bay Park and he told me that some kids had kicked out that fence several days beforehand. So... jus kiddin :)
The VIPParty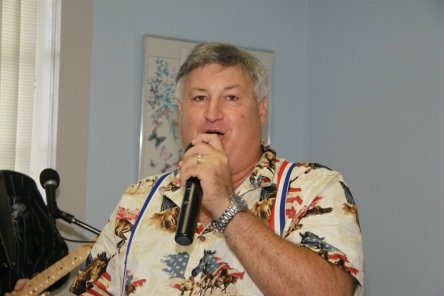 Mike Looney, chairman of the Fireworks Committee
with Lemon Bay Sunrise Rotary speaks to the crowd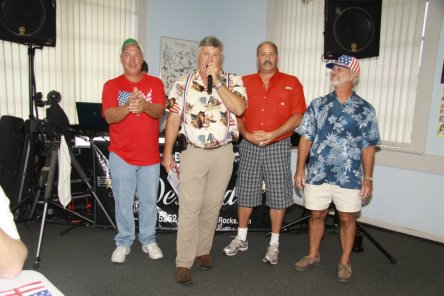 Brian Baksa - Mike Looney - Ray Labadie - Craig Noden
The Lemon Bay Sunrise Rotary Fireworks Committee
with Platinum Sponsors Greg and Brenda Symons of
the Englewood McDonalds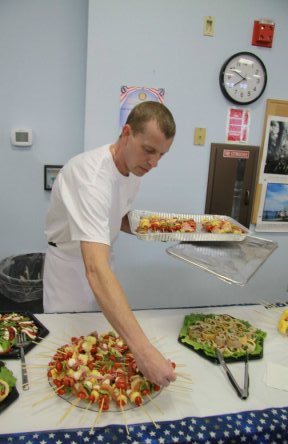 Great Food from Lock n Key Restaurant
The party continued but I had to leave to set up my equipment
for the fireworks that would begin on the beach in about an hour
And back to Middle beach for the biggest fireworks display
ever seen in Englewood Florida
Page Links
Best photographer in Englewood Florida
This Photo Webpage compliments of

Robert's Photography
& Video Services
---
All About Englewood Florida
Englewood Small Business
These photo web pages were built with
a screen resolution of 1024 x 768
Need a photographer for your next event ??
Robert Shainline
P.O. Box 906
Cape Haze, FL 33946
---

Pictures of Englewood Florida
Pictures of eht Englewood 4th of July VIP Party at Lemon Bay Park
pictures of food from Lock n Key Restaurant
pictures from Englewood Florida

All photographs copyrighted by Robert Shainline 2009

Member of the
Englewood Chamber of Commerce

Member of the
Boca Grande Chamber of Commerce

President of the
Englewood Executive Network

photographer in Englewood Florida