Robert's Photography
& Video Services

Presents
Dollars For Mammograms
Check in was fast and easy
Inside they were selling some beautiful bracelets for $10
And Linda Lee Mercer from Sewing by Linda Lee donated this large thick patchwork quilt to be sold with $10 chances
Further inside was a huge display of decorated bra's that all the girls would vote on
I just never know what I will be photographing next :)
A small silent auction offered some nice gifts
Or you could buy a some raffle tickets and put them into the red cups for the drawing at the end of the event
There were all kinds of wonderful gifts available all donated by local businesses
Decisions - Decisions
The beautiful and relaxing Sunset Relaxation DVD was my donation to this cause...
(plus this wonderful photo webpage to share with everyone)
The tables were filled so a few of the girls had to sit at the bar... If I only knew there were so many gorgeous women who drank this early in the morning I might visit more often :)
Fresh fruit breakfast appetizers were served
And I went about getting a few good pictures before the main meal showed up
The meal was wonderful (as is everything at the Hills Restaurant)
And a few more casual table shots while the plates are still beautiful and untouched
Dessert was a delicious cherry cheesecake
And while everyone finished eating... Rita Bertler got the exciting part of the event rolling
Winner of the bra decorating contest was announced
These guys would be modeling the decorated bras and walk through the room to
show them off ... and the girls had a great time watching :)
Check out these Whoppers :)
As the guys pranced around the room... the auctioneer kept the bids rising until there
was a winner. Below are the winners who purchased these bras at auction...
some of them going for over $100
I think this guys was really enjoying all the attention :)
I mean... you just never knew what to expect from these girls :)
Another pretty face in the crowd
For some reason they just couldn't resist this guy in a bra :)
But just when you think you won the bid... someone bids a little higher :(
| | |
| --- | --- |
| | |
| Looks like some new kind of Superhero? | Actually kinda scary... Don't you think ? |
But it seems to work well to attract some beautiful women...
Of course there were other photographers... but I don't know that a "girl" would have
the same motivation that a "guy" would have in a situation like this :)
DJ music and microphone audio has really become quite micronized these days. Here's the whole setup :)
Kinda matches her blouse... maybe girls should wear their bra on the outside sometimes ?
The winners of my two donated Sunset Relaxation DVD's
1st place winner of the bra decorating contest
Winner of the Bra Dazzle Patchwork Quilt
donated by Linda Lee Mercer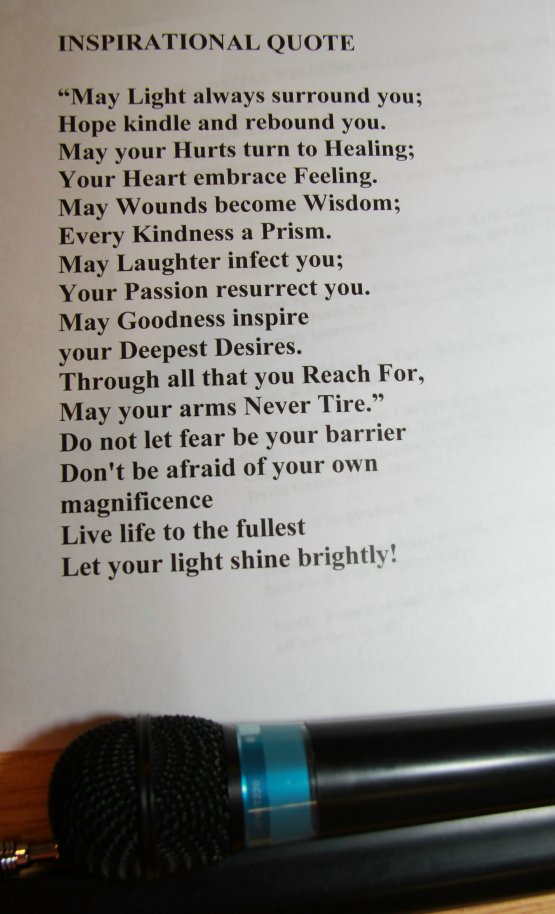 I'll leave you with this inspirational quote.

"Thank you" to everyone that participated in this worthy event.
For more information or to make a donation call
(941) 474-2674
or visit their website
@
www.DollarsForMammograms.org
PS... I tried to get them to announce the name of this photo website so that everyone could visit and see and/or copy the pictures that I took that day... but it was forgotten. But since it took 6 hours of photography and 3 hours of editing to create this page, it would be a shame not to share it... so please help spread the word to your friends by passing on this website address. If anyone would like to have a larger version of their portrait here please feel free to drop me a note and request it.

Thank you for your time and consideration
---
Thank you for visiting
All About Englewood Florida
All About Englewood Florida
The NEW Englewood Yellow Pages
All About Englewood Florida


All About Englewood Florida
Shopping - Business - Nature - The P.O.D. - 2014 Event Calendar - Stronger
All About Englewood Florida
Parks - Beaches - Relaxation - Events - Photography - Photo Gallery - Testimonials
All About Englewood Florida
This photo webpage compliments
of

Robert's Photography - Video
& Internet Services
Need a photographer for your next event ?