Robert's Photography
& Video Services

Presents
The Charlotte Sports Park
Home of the Rays & the Charlotte Stone Crabs
Baseball Teams
I was fortunate enough to win a few tickets to the ball game from the Boca Beacon Newspaper on Boca Grande. So I gathered some of
my friends and invited them to go with me.
It was a beautiful night for a game... clear sky... light breeze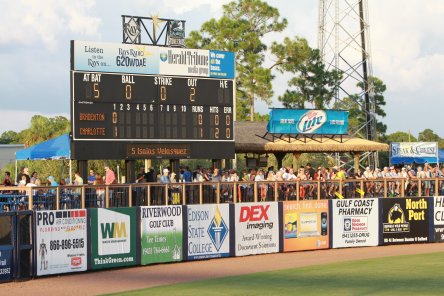 The stands were sold out and there were only standing room only (SRO)
spaces available in the grass and in the outfield
While my friends relaxed and watched the game I of course walked around the stadium to get a few pictures for this website. The ball park is a great resource for the community and I wanted to promote it in the best way that I could... with one of these very popular photo web pages.
The lighting in the stadium is excellent and my 200mm lens was lovin it... and making it easy to catch some fast moving action
I hadn't taken more than two or three pictures when one of the ushers approached me and told me I was not allowed to do that... and that I should return to my seat. I told him I didn't have a seat (I was in the SRO section) and I was just wondering around the stadium walkway taking a few pictures from different angles. He repeated in a very angry tone that I could not be there and that I should return to my seat... and then he walked away !
Well I didn't really know what that was about... so I walked a bit further and thought I'd grab at least one quick shot from behind home plate when I was stopped again and this time told that my camera was illegal in this stadium ! I assured them that I had been here many times without any problems... handed him my business card and explained to him that I was only taking pictures to promote the park.

He then told me that I would have to report to security immediately...
and took me there directly.
So off I went to the stadium's security office. I didn't really consider this a problem because I often go to the security office when I have to take photo's in secure places like banks or airports or when there are children involved. It's not illegal to take pictures in an airport... it just makes good business sence to introduce yourself to avoid this kind of stuff. So I figured it would be easy enough to just explain who I was and what I was doing there... because I had no idea there was a rule about taking pictures in the stadium... or that it was in any way a security issue.

When we reached the security office... I introduced myself... handed them my card and told them I was a member of the Chamber of Commerce... and that my website promotes all the local events. But they said I'd have to talk to the security guy in charge. However... guy in charge was not in the office... so they called him on the walkie talkie and located him standing by one of the gates. So again they asked me to follow them to this security officer. Again... not a problem.
I'm sure it's just a big misunderstanding.
Well... so much for that idea. When we finally found the security guy leaning against the fence at one of the gates... he told me that I would have to take my camera back to the car... or as the sign says (as he points directly to it on the outside wall some
20 feet away in the dark) or you'll have to discard it. I said "What are you talking about? I'm not breaking any rules here".

Again he points to the distant sign and in a bold tone say's "Can't you read?"
No Cameras with lenses over 9 inches long!"

I looked down at my 70 - 200mm lens and assured him that it was not over 9 inches long and looked over at
the sign using about 385mm so I could read it from that distance from inside teh gate and to my surprise I see it says
"Cameras with lenses over 12 inches long
and I took this picture while he was still pointing at it...
just to be sure we were both reading the same sign.

So I lowered my camera and I said "First of all... the sign says 12 inches not 9 inches... and if you have a ruler
we could easily just measure the lens and see how long it is. He replied "Now you're just looking for trouble"!
I said "What are you talking about?

The sign says 12"... and this lens is only about 8 inches... and even with the plastic lens hood it's not 12" long...
can't we just measure it?" Again he just suggested that I was being a troublemaker and that he wouldn't put up with it...
and tells me I'll have to put it away. So I asked again... "What is the problem"? He repeated "You'll have to put that away" another security assistant whispers to me from behind "he means the little plastic lens hood)... and the guy walked away in a huff.

Wow! Are we havin fun yet?
Well I spent the next half hour in a bit of a daze thinking about being persecuted like that and decided to just take a few pictures of some of friends and not to take any more pictures of the game...
It was the bottom of the 6th when I decided I didn't want any more abuse and didn't want to be there anymore. I told my friends what happened and they agreed it was a bum rap... so we decided to just go home.

You know... I don't think I've ever created a webpage like this before
because I don't like to promote anything negative. But this was just wrong... and I thought the public should know it
so it doesn't happen to them.
Best photographer in Englewood
This Photo Webpage compliments of

Robert's Photography
& Video Services
---
All About Englewood Florida
Englewood Small Business
These photo web pages were built with
a screen resolution of 1024 x 768
Need a photographer for your next event ??
Robert Shainline
P.O. Box 906
Cape Haze, FL 33946
---

Pictures of Englewood Florida

All photographs copyrighted by Robert Shainline 2009

Member of the
Englewood Chamber of Commerce

Member of the
Boca Grande Chamber of Commerce

President of the
Englewood Executive Network

photographer in Englewood Florida