Welcome to Englewood Florida

---
These pictures are from the Grande Opening of the new
J.M Berlin/Rotary Oyster Creek Regional Skate Park
in Englewood Florida
---
Enjoy
The Englewood Rotary was selling T-shirts and skateboards
at the entrance of the new Skate Park
The kids sat patiently waiting for the gates to open
The opening ceremonies were short and sweet
Charlotte County Commissioner accepts a $20,000 donation
from the Englewood Rotaries

---
The ribbon cutting ceremony
The gates open... and the new J.M.Berlin / Rotary Skate Park is open for fun
Let the skating begin !
Skate Guards watch over the action to keep the kids safe
just as they do at a swimming pool.
This half-pipe makes a good practice area
Climbing the walls seems to come easy for some of these kids
Mother and Son
If you lose your momentum while in the deepest pits...
you will have to find a way to climb out... as there are no stairs
Scratches on the bottom of the skate board are totally acceptable wear and tear
Ready - Set - Skate
Some of the skate areas look like a giant swimming pool... only without the water :)
Not everyone needs a concrete ramp to get airborn
However... the adventourous ones love the big ramps to get them high on excitement
The landings are always... exciting :)
What looks like a perfect jump...
Doesn't always end with perfect landing
But everyone is required to wear safety equipment... including helmet, elbow & kneepads
Ouch! Brushburned palms...
Do ya think that hurt ?
No pain - No gain :)
(interesting photo though... don't you think?)
---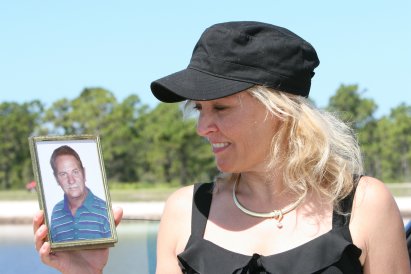 Cathy Pickett with a picture of her father John M. Berlin.

The Berlin family was very instrumental in the creation of this new
Skate Park here in Englewood Florida because of the large donation made by his wife Jean Berlin in memory of her late husband John.
Lisa Nagy
Charlotte County
Parks, Recreation & Cultural Resources
Program Coordinator, Marketing & Outreach
(941) 625-7529
www.charlottecountyfl.com
---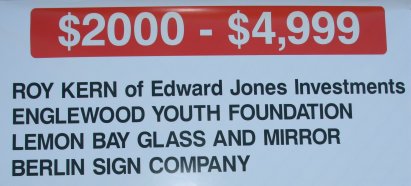 ---
For more great photographs of Englewood Area Events...
be sure to visit our exclusive photo website at:
www.AllAboutEnglewood.com
---

PAGE LINKS
GO to:
Englewood Small Business
These photo web pages were built with
a screen resolution of 1024 x 768
Need a photographer for your next event ??
Robert Shainline
P.O. Box 906
Cape Haze, FL 33946
---
Pictures of Englewood Florida
Pictures of kids
Pictures of the Englewood Skate Park
pictures of skate boards
Pictures of the Englewood Rotary
pictures of a skate park
Pictures of Englewood Events
Pictures of skate board helmets

All photographs copyrighted by Robert Shainline 2007
Member of the
Englewood Chamber of Commerce
Member of the
Boca Grande Chamber of Commerce
Member of the
Englewood Executive Network
---