Robert's Photography
& Video Services

Presents
The Great Bay & Sound
Scallop Search - August 14, 2010
I got an email from a friend asking me if I would be interested in going on this scallop search... and thought it sounded like fun.

The University of Florida/Charlotte County Sea Grant Extension Program asked for volunteers to snorkel in shallow water over the sea grass beds in Lemon Bay to see if they could find any scallops. The purpose of this program is to monitor and document the health and status of the bay scallop population. I'll attach the original event flyer which holds all the information about who, what, when , where and why this event occurred.

You can just click here if you would like to see it.
The Bay Scallop

Some of the most interesting things I learned were:

1. Scallops don't just sit on the bottom of the bay like a clam...
they have jet propulsion and can move around fairly easily. They're not real fast and they're not real directionally accurate... but they can scoot and hide and get themselves out of harms way.

2. Scallops have eyes. They don't have 2 eyes like you and I...
they have about 60 of them... and they are all a beautiful aqua blue !

Take a closer look at the picture below... see all those blue dots?
They're eye's. They can't see real well, but they can detect movement and changes in light... and so can "decide" to make a run for it if they
see an approaching starfish or conch.

3. People don't eat scallops. They throw away the scallop and
only eat the tiny little abductor muscle that opens and closes the
scallops shell. So no wonder scallops are so expensive !
My day started off at Eldred's Marina in Placida at about 8:30 am. Eldred's has a boat ramp and marina on the right just before
you cross the toll bridge to Boca Grande.
In the back behind the marina ia a large open field where this event began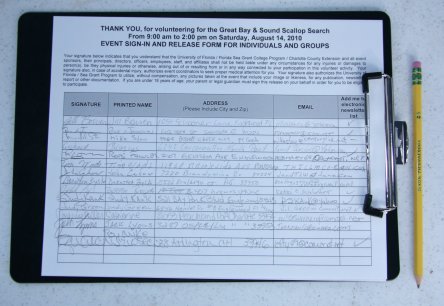 Everyone who was going to be part to this event had to sign in
This form matched volunteer snorklers with volunteer people with boats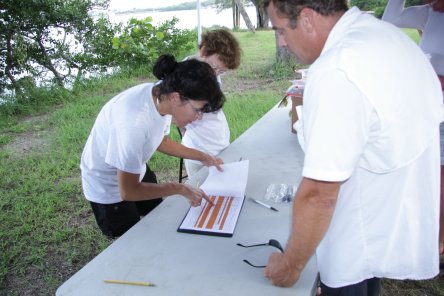 This chart divided the area into sections, and each boat would be assigned an area to search
My friend Bobbi Rodgers runs the Cedar Point Environmental Park in Grove City... across from Lemon Bay High School. They have lots of interesting nature tours and events all year long. You can find out more about their events by calling them at (941) 475-0769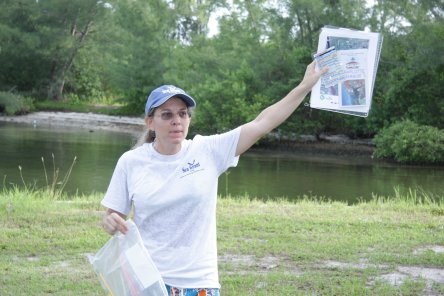 Betty Staugler is the Florida Sea Grant Agent from the University of Florida IFAS Extension in Charlotte County, and she gave an informative talk about what was expected from the volunteers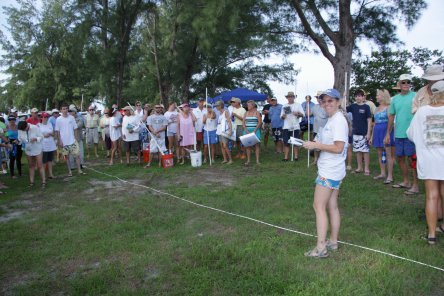 The instructions were to stretch out this piece of line in a straight line somewhere in your designated area of the bay, The line comes with a float at each end to mark it and a weight at each end to hold it in place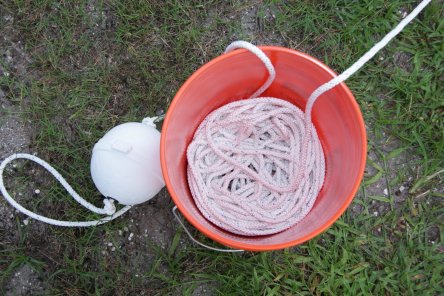 You were then instructed to have one snorkeler on each side
of the line and swim from end to end searching the area about
3 feet on each side of that line.
If you found a scallop you were requested to note the place,
depth and type of sea grass where the scallop was found.
| | |
| --- | --- |
| | |
| A waterproof scalloping guide was offered to each team | |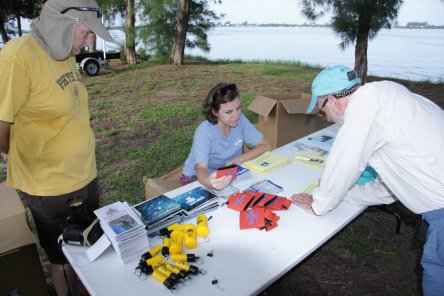 Lots of FREE stuff for anyone that would take the safe boaters quiz
And FREE water and Sea Grant water bottles for everyone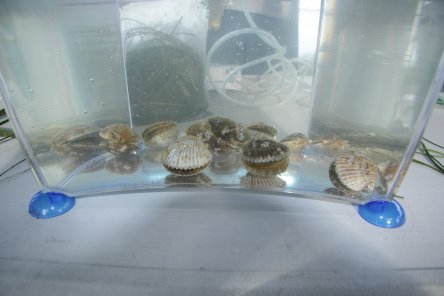 A small plastic tank with some live scallops for everyone to see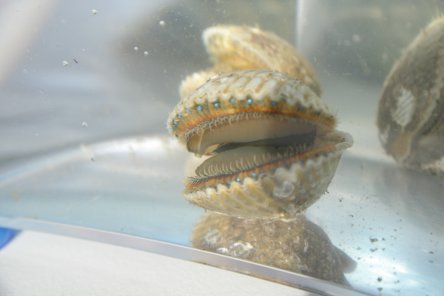 Interestingly... scallops have a dark and a light side. If the scallop was hiding in dark sea grass... be would be dark side up... and if he were on sand... he might be light side up to help him hide from predators.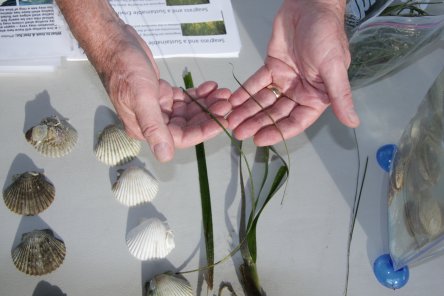 This table also had different specimens of sea grass to learn about so that you could identify what kind of sea grass the scallops were living in. The thick wide grass is called "Turtle Grass" The smaller thinner rounder grass is called "Manatee Grass"... and an even finer version which you may see on docks and pilings and close to shore is called "Shoal Grass".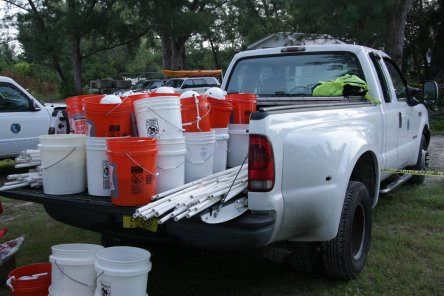 After the talk everyone grabbed a bucket with line and marker poles and headed off to their assigned areas to look for scallops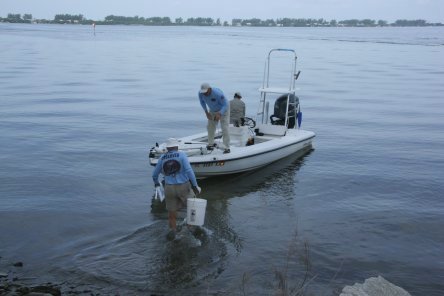 The boat I was assigned to belonged to Neil and Kay Heisner
Through the drawbridge at the Boca Grande Causeway
we head south to our assigned area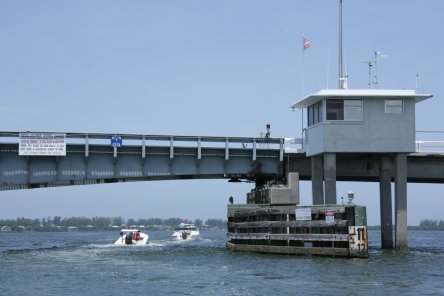 I wasn't in the water for 5 minutes when I found my first scallop. Interestingly... instead of closing himself tight like a clam might do... this one opened wide open and then slammed shut again to try to get away.
I have a keen eye for unique things in the water because I used to work for Mel Fisher as a treasure diver for a few years. One of the first things they told me was to keep my eyes open for "anything different".

While I have a high tech underwater metal detector to tell me if there was any gold or silver on the bottom... it wouldn't detect the thousands of diamonds, rubies and emeralds that were also laying around from those shipwrecks. Above is a handful something different that I found on the bottom.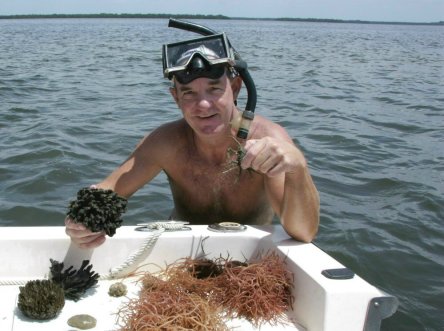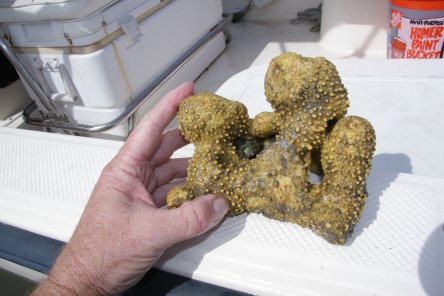 Along the way... while I'm walking on my fingertips looking for scallops in the grass... I came upon a multitude of other critters I thought my readers might enjoy seeing. Like these couple of cool sponges.
And a tiny crab that was living inside
A cool little spider crab
A couple of sea urchins. Underneath that spiny covering
they have a small, beak like mouth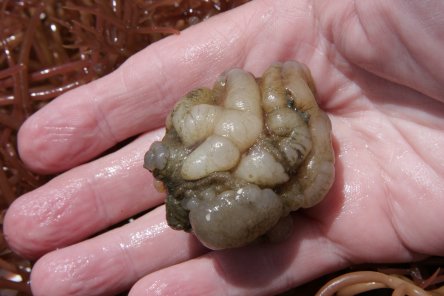 A couple of sea squirts
But what we were looking for were bay scallops...
and I found a couple more
Kay, the first mate, logged the position, the depth
and the type of sea grass where I found them.
While I log photo's of all the cool critters I found
We tried 3 different locations before returning with our data...
but only found a grande total of 4 scallops.
Part of the deal was a FREE lunch and a FREE T-shirt when we returned
Special thanks for Jason's deli for a very, very good box lunch. Jason's deli is at the end of 776 in from of the Port Charlotte Mall.
The resulting numbers from our Scallop Search. While these numbers don't look high... it is a grande improvement from last year I was told.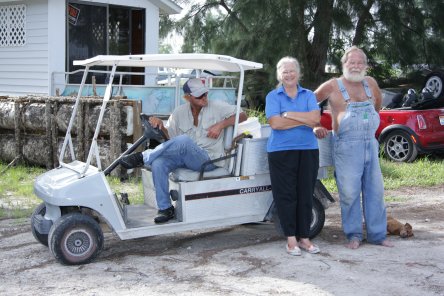 Special thanks to "The Eldred's" for the use of their land and marina
This Photo Webpage compliments of

Robert's Photography
& Video Services
photographer in Englewood Florida
Englewood's #1 Photographer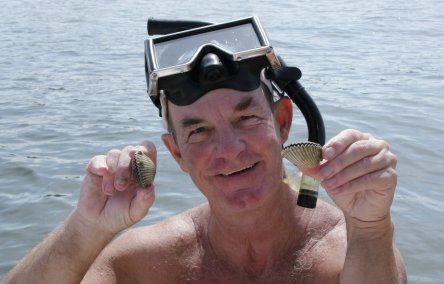 No scallops were harmed in the production of this webpage :)
Best photographer in Englewood
Want to learn more about scallops?
Here is an interesting article I found while researching this little critter.
This Photo Webpage compliments of

Robert's Photography
& Video Services
Need a photographer for your next event? Call Today !
---
All About Englewood Florida
Englewood Small Business
These photo web pages were built with
a screen resolution of 1024 x 768
Need a photographer for your next event ??
Robert Shainline
P.O. Box 906
Cape Haze, FL 33946
---
Pictures of Englewood Florida
Pictures of bay scallops
Pictures of sponges
Pictures of crabs
Pictures of sea squirts
Pictures of scallop eyes
All photographs copyrighted by Robert Shainline 2009
Member of the
Englewood Chamber of Commerce
Member of the
Boca Grande Chamber of Commerce
President of the
Englewood Executive Network
photographer in Englewood Florida
Here is a copy of their original flyer.