Robert's Photography
& Video Services

Presents
Plant Native Day
at
Cedar Point Environmental Park

---

Sponsored in part by: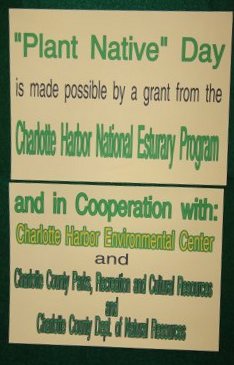 The Charlotte Harbor
National Estuary Program
CHNEP
&
Charlotte Harbor Environmental Center
www.checflorida.org
&
Charlotte County Parks, Recreation and Cultural Resources
http://www.charlottecountysl.com
&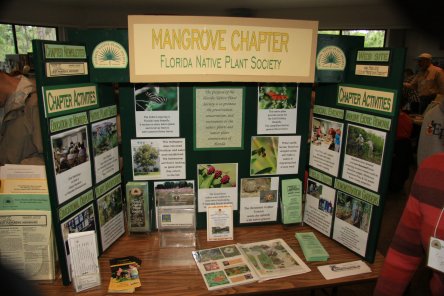 The Mangrove Chapter
of
The Florida Native Plant Society
The Florida Native Plant Society promotes the preservation and conservation
of the native plants and native plant communities of Florida. For more information
you can find them on their website at www.mangrove.fnpschapters.org
.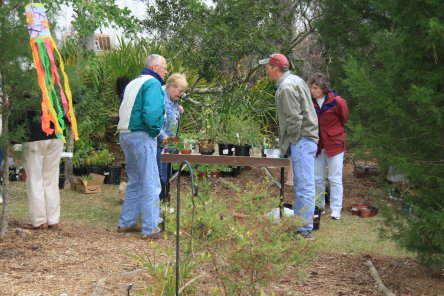 Always plenty of native plants for sale at this event
Want the best mulch for your garden... try using nature's alternative to cypress mulch. This is made from the Malaleuca Tree which helps to recycle this problem tree while helping to preserve the cypress.
A few home made wreaths made from Grapevine
The weather was quite cold and everyone
moved inside when it started to drizzle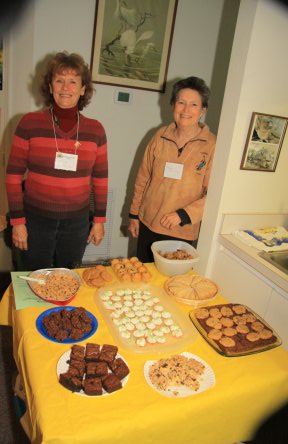 Inside they had lots of yummy treats for everyone
Lots of FREE information to help you grow things
Homemade Jams and Jellies by Al Squires
Kay Thorpe Bannon, author of
"How Gimble Gopher Tortoise Found A New Home" was there signing her book. The book has a very interesting variety of characters illustrated by Rebecca Eagan that make if a fun and interesting book for kids.
Lots of cool stuff to see and touch at Cedar Point Park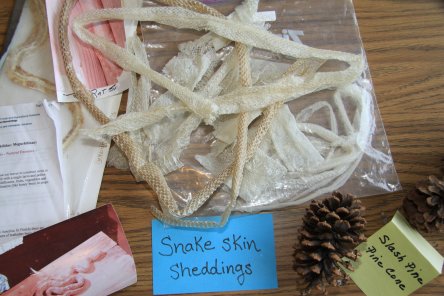 Snake Skin Sheddings above - A variety of bird nests below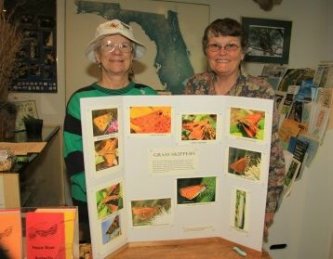 Peace River Butterfly Society always has an interesting display at this event
This year they gave me a little virtual tour of a butterfly's life starting with the little yellow egg at the top right hand corner of this leaf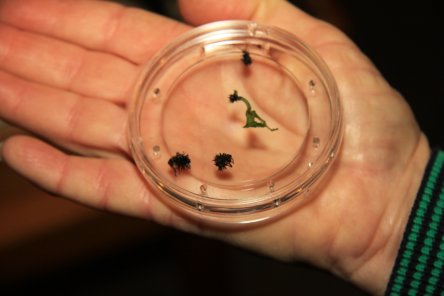 The egg grows and transforms into these little black critters and shed its shell 3 times before they can get on with their life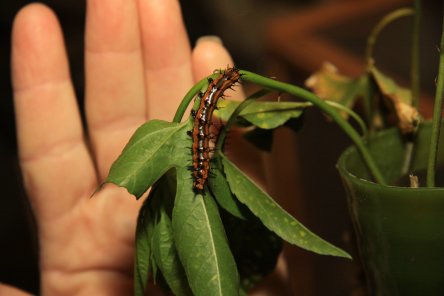 The life of a caterpillar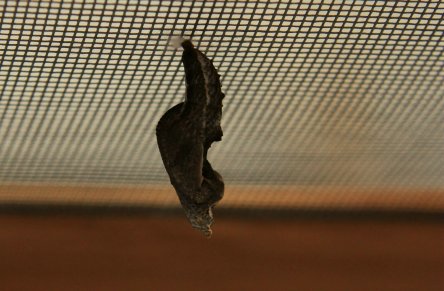 Once it has eaten enough it transforms itself in to this chrysalis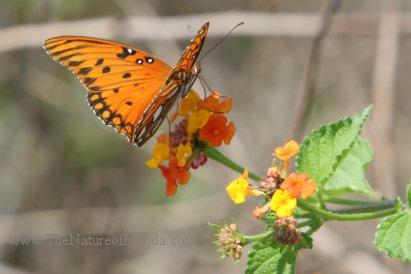 And then our comes this beautiful Gulf Fritillary. Cool !
| | |
| --- | --- |
| | |
| Lots of interesting books about plants | Or how to build a butterfly garden |
| | |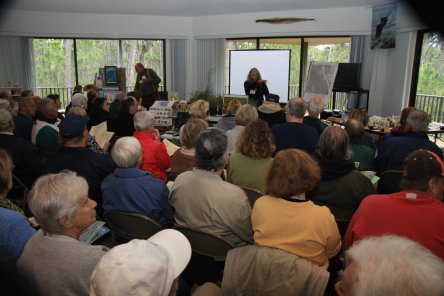 Cedar Point Park Manager Bobby Rodgers welcomes the crowd
to Cedar Point Park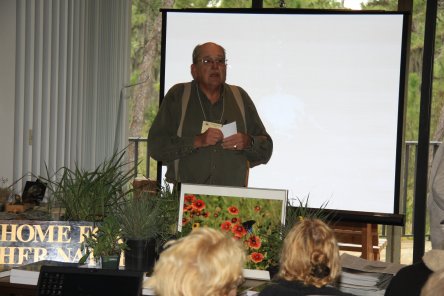 Master of Ceremonies of the event was Al Squires, of the Cedar
Point Environmental Center who introduces the first guest speaker
Laurel Schiller, of the Florida Native Plant Society FNPS in which she talked about the versatility of different types of Florida Grasses. Laurel runs the Florida Native Plants Nursery & Landscape Design business at
730 Myakka Road, in Sarasota. (941) 322-1915

For more information visit
www.FloridaNativePlants.com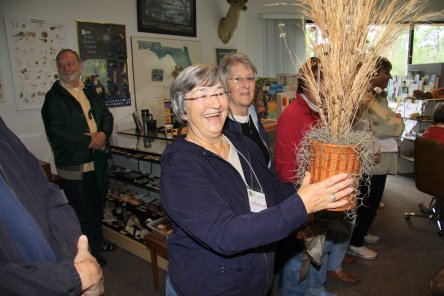 There were drawing for free gifts
Chris Meyer of Myakka Islands Point also talks to the group about different kinds of Florida habitats and the natural things that grow there
If you would like to take a very interesting and beautiful virtual tour
of the Myakka Island Point Preserve you can just follow this link.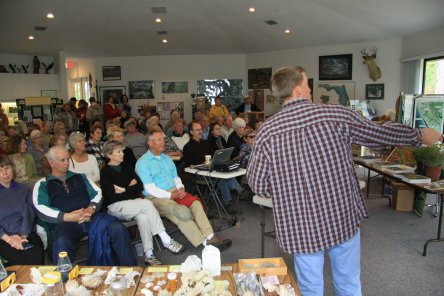 The weather wasn't cooperating this year... but the parking was full to the brim and people came from all over.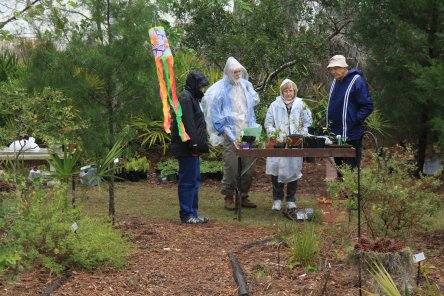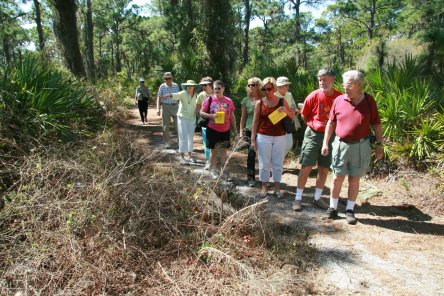 The rain and cold canceled the regular nature walk through the park... so
I'll give you links to the pictures from the walks we did the last few years so that you can still get to take a nature walk with us :) Enjoy
And if you ever want to go for a very interesting guided walk
you can check the regular schedule on my website here
Best photographer in Englewood Florida

All About Englewood Florida
Englewood Small Business
These photo web pages were built with
a screen resolution of 1024 x 768
Need a photographer for your next event ??
Robert Shainline
P.O. Box 906
Cape Haze, FL 33946
---

Pictures of Englewood Florida
Pictures of the Native Plant Society Annual Event

Pictures of cedar point park

Pictures of Florida Native plants

Pictures of butterflies

All photographs copyrighted by Robert Shainline 2010


Member of the
Englewood Chamber of Commerce

Member of the
Boca Grande Chamber of Commerce

President of the
Englewood Executive Network

photographer in Englewood Florida