Robert's Photography
& Video Services

Presents
The Englewood Area Orchid Society
Annual Orchid Show
The Englewood orchid show took place at the Englewood United Methodist Church corner at 700 East Dearborn Street in Englewood Florida. Again, I was I was hired by the Orchid Society to be
"on duty" just in case any of the orchids in this show were chosen
as winners by the American Orchid Society, who judges this show.
This year there were 2 awards given to local growers which I will
display at the end of this page. Congratulations!
To learn more about the Englewood Area Orchid Society visit them at

www.eaos.org
First thing they do on the morning of the show is get all the judges together and talk about the awards program
I try to get around and photograph each of the giant orchid displays before the judges start hanging ribbons and awards all over them.
---
Darryl Saffer is a filmmaker and composer and likes to take video of wild places where people search for orchids. www.wildorchidman.com
Lots of happy orchid buyers all over the place
Sandi not only collects orchids... she also paints them. You can find
her work available for sale at www.Orchid-Art-by-Sandi.com. She also donated these note cards to help the orchid society raise funds :)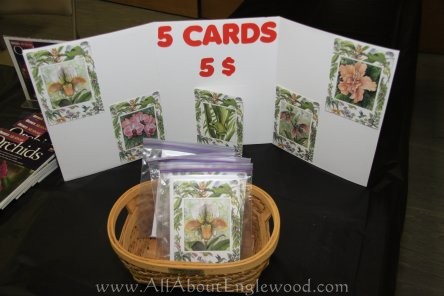 A special dedication to the Ghost Orchid of Corkscrew Swamp
They had specialists doing lectures about how to grow orchids
and they had a lot of very interesting tips to share.
I even got a booth of my own to display my cards and invite people to come to this website to see all the best photo's I would take during the course of the day. Below are some of my favorites... Enjoy :)
Towards the end of the day... the judges pull some of the best of the best orchids from their display and take a very close look at them to decide if they would qualify for an American Orchid Society Award. Here they count, measure and inspect each flower and bud.
Then they compare these results via the internet with other flowers of the same varieties to see if they are something special.
This was one of the winners. The name of the plant is
an Epi ciliare which had 34 unique orchid flowers
Another winner with a Tolumnia April Dancer chosen with 294 flowers and 172 buds on 35 gracefully arched inflorescences... the award reads.
This years judges for the 2010 Englewood Area Orchid Society Show
Looking for some really great local orchids at a really great price?

Visit Joes Orchids in Placida Florida
A quaint little shop in the beautiful and relaxed area of Placida, Florida

Orchids - Orchid Supplies - Potting Materials - Pots & Pottery

All your Orchid Supplies are available here
This Photo Webpage compliments of

Robert's Photography
& Video Services
photographer in Englewood Florida
Englewood's #1 Photographer
Hope you enjoyed the Englewood Area Orchid Show
Be sure to tell your friends to visit too
Have A Great Day :)
Robert
Best photographer in Engle

---
All About Englewood Florida
Englewood Small Business
These photo web pages were built with
a screen resolution of 1024 x 768
Need a photographer for your next event ??
Robert Shainline
P.O. Box 906
Cape Haze, FL 33946
---

Pictures of Englewood Florida orchid show
pictures of Englewood Florida

pictures of orchids at the Englewood Area Orchid Show
Englewood Florida
All photographs copyrighted by Robert Shainline 2009

Member of the
Englewood Chamber of Commerce

Member of the
Boca Grande Chamber of Commerce

President of the
Englewood Executive Network

photographer in Englewood Florida