Last stop... and my goal for this trip was to visit Montezuma, Costa Rica. Didn't really have a reason except that it's unique location on the map told me I should go there. And so I did.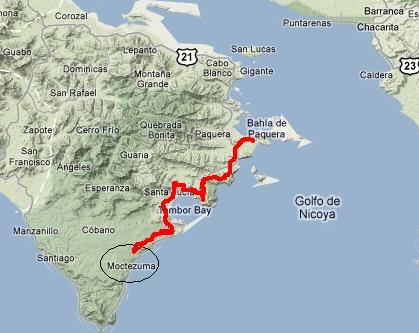 But I have to tell you the truth. It is NOT EASY to get to Montezuma, Costa Rica unless you fly in. The roads leading there are some of the most treturous roads I have ever been on... and there are places that if you ran off the road, the dirt road, (which has no guard rails, signs, lines, or warnings what-so-ever), you could easily go over a cliff and drop thousands of feet down a ravine, into the jungle, and nobody
would find you for years !
If ever !
And even though those open ravines were the most beautiful views I
have ever experienced... my common sense told me "not to look" and
to "just watch the road"... because there were just too many other things
I should be looking at. Some of the views were so grande... and so stunning... and so close to the edge... that even my passengers
were afraid to look down !
Well, the blacktop roads were fine... with a minimum of potholes to deal with... but when I got to the dirt road again.. if you want to call it a road, more just a place on the mountain where they removed the trees... it had deep ditches and the ravines in the middle of the road caused by the rains
and it made driving particularly tricky.
Passing a car or truck coming towards you can be death defying experience... depending on which side the cliff is on... and passing another car going the same direction is definitely taking your life into your own hands. But not passing means you could still be on this road, in the dark... or worst case... in the rain in the dark...and even though
I consider myself an excellent driver, both on and off the road,
on a track, on a motorcycle, a boat and just about everywhere
else... I really would not want to drive these roads
in the rain... let alone at night !
And so the entire trip across the mountains to Montezume was like driving in a life like video game... where you never know what will be around the next corner... over the next hill. Will it be a big truck... a herd of cattle...
a river with no bridge... or just the roughest road you ever experienced ?
Trust me. Unless you are an excellent driver... and like to do
the 4x4 thing... and you really like the excitement of
not knowing if you'll survive... just fly into Montezuma...
or take the southern most ferry into Paqueta... take a short drive
and enjoy your stay... as it is a great place to visit.
But having said that... I must also say...
The drive was also one of the high spots of my entire trip...
and I enjoyed doing all the driving :)
And if it weren't for my two screaming passengers...
it could have been a lot more fun.
OK?
Enuf said.